I am enough of an artist to draw freely upon my imagination. Imagination is more important than knowledge. Knowledge is limited. Imagination encircles the world.
—Albert Einstein (1879 - 1955)
Latest News
Sat, 12/10/2011 - 12:54 — Sheila Ruth
Extended through February 28!
Big cats are disappearing from the wild at alarming rates, and if we don't do something, lions, tigers, cheetahs, and other big cats may soon exist only in zoos. For the month of December, donate $5 or more to National Geographic's Big Cats Initiative to help save big cats, and you'll receive a bookplate autographed and kitty doodled by Clare Bell, author of the Named series. In addition, Imaginator Press will donate $5 to the Big Cats initiative for every donation of $5 or more made in Ratha's name.
Sun, 12/04/2011 - 11:17 — Sheila Ruth
Wise, patient, compassionate Thakur, herding teacher of the Named, wants to share the spirit of the season with Ratha fans on Facebook. Each day for the month of December, Thakur will have a gift for you. Gifts may be a one-day sweepstakes or giveaway, a special coupon or deal, a message from one of the Named, a picture, a video, or anything else of interest to Ratha fans. Check back each day of December to see your "gift" for the day!
Thu, 09/08/2011 - 19:30 — Sheila Ruth
In 2009, Imaginator Press held a writing contest for children to celebrate the 5th anniversary of the publication of The Dark Dreamweaver. Children up to age 14 were invited to send us stories of up to 2000 words on the theme of "Dream Power." We wanted to encourage young writers to use their imagination, and they far exceeded our expectations. Out of all the submissions we received, sixteen stories were chosen as winners. All of the winners have been published in the Dream Power anthology, now available from Imaginator Press. Click here for more information and to order.
Thu, 07/21/2011 - 18:49 — Sheila Ruth
I'm excited to unveil the cover design for the new edition of Ratha's Challenge! Take a look at this gorgeous cover:
Preorder Ratha's Challenge now
Cover illustration by Lew Lashmit. Cover design by 1106 Design.
Wed, 06/01/2011 - 08:48 — Sheila Ruth
Imaginator Press is sponsoring a fan art contest, for art based on the Books of the Named. Prizes include autographed books, t-shirts, and other merchandise (not to mention fame and glory! Entries will be accepted between June 1 and June 30, 2011. The winners will be determined by popular vote. Voting will take place from July 1 through July 31, 2011. Click on the banner below for more details and to enter. You can also enter on Facebook.
Thu, 04/14/2011 - 19:54 — Sheila Ruth
Everyone loves the new Imaginator Press covers of The Books of the Named, and we've had requests for posters and other similar merchandise featuring Lew Lashmit's beautiful cover art. We've listened, and you can now buy Ratha series merchandise, including posters, mugs, and stickers, on Zazzle.com. Here are some of the products available: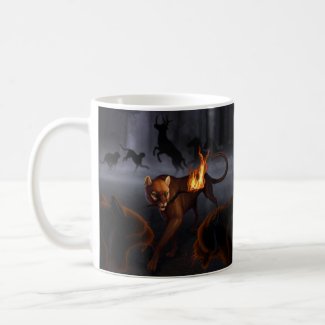 Ratha Fire Mug
by
SheilaRuth
Make a
promotional travel mug
online with Zazzle
Fri, 04/01/2011 - 17:16 — Sheila Ruth
Ratha's Creature: The First Book of the Named, is now available in large print and accessible formats from ReadHowYouWant. The large print books are available in five different type sizes, ranging from 16 point to 24 point.
Ratha's Creature Large Print editions
Clan Ground, Ratha and Thistle-Chaser, and Ratha's Courage are also available in large print and accessible formats. View Clare Bell books in accessible formats at ReadHowYouWant.
Wed, 03/16/2011 - 11:31 — Sheila Ruth
Check out the new book trailer for Ratha's Creature:
Sat, 03/12/2011 - 11:22 — Sheila Ruth
Clare Bell, author of the Books of the Named, will be at the Other Change of Hobbit bookstore in Berkeley, California, next Saturday, March 19, from 3 to 5 pm. Stop by and say hello, and check out the new Imaginator Press editions of the Ratha books!
Here's the event on Facebook:
http://www.facebook.com/event.php?eid=194817273884498
Here's the web site for the book store:
Fri, 02/04/2011 - 15:44 — Sheila Ruth
I'm excited to announce that Imaginator Press has finally acquired the rights to Ratha's Creature: The First Book of the Named, and will be publishing a new trade paperback edition March 1! We have a fabulous new cover illustrated by Lew Lashmit, who also created the cover illustrations for the Imaginator Press editions of Clan Ground and Ratha and Thistle-Chaser:
Imaginator Press Newsletter